Travel Info.
Tokyo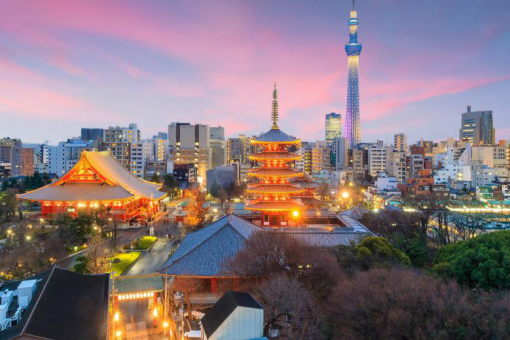 Tokyo is Japan's capital and the world's most populous metropolis. It is also one of Japan's 47 prefectures, consisting of 23 central city wards and multiple cities, towns and villages west of the city center. The Izu and Ogasawara Islands are also part of Tokyo.
Prior to 1868, Tokyo was known as Edo. A small castle town in the 16th century, Edo became Japan's political center in 1603 when Tokugawa Ieyasu established his feudal government there. A few decades later, Edo had grown into one of the world's most populous cities. With the Meiji Restoration of 1868, the emperor and capital moved from Kyoto to Edo, which was renamed Tokyo ("Eastern Capital"). Large parts of Tokyo were destroyed in the Great Kanto Earthquake of 1923 and in the air raids of 1945.
Today, Tokyo offers a seemingly unlimited choice of shopping, entertainment, culture and dining to its visitors. The city's history can be appreciated in districts such as Asakusa and in many excellent museums, historic temples and gardens. Contrary to common perception, Tokyo also offers a number of attractive green spaces in the city center and within relatively short train rides at its outskirts.
VISA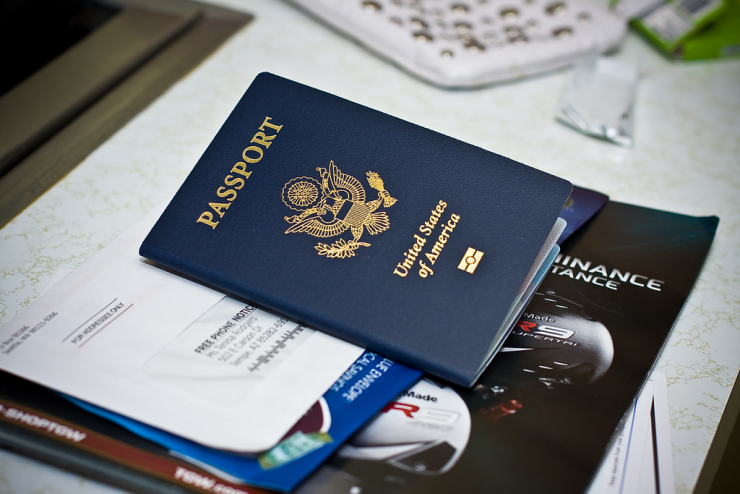 Any foreign visitor entering Japan must have a valid passport for the duration of their stay, and all visitors must comply with the conditions of their visas. See below for commonly asked questions about Japan visa requirements.
Do I need a visa for Japan?
Citizens of 68 countries coming to Japan for tourism purposes including Hong Kong, Korea, Singapore, Australia, New Zealand, Canada, USA, UK and almost all European nations don't require a visa (rules and conditions apply ) and will be granted permission for short-term stay upon arrival.
Visitors from outside these 68 countries must apply for a visa in advance. Click here to link to the official Ministry of Foreign Affairs of Japan website for further information.
Even if you are a citizen of a country that doesn't require a visa, make sure to check the official rules for Japan visa requirements as they can periodically change.
Japanese law requires that all short-term foreign visitors must have proof of onward travel (departure) from Japan.
All short-term foreign visitors to Japan are photographed and fingerprinted upon arrival and must carry their passport with them in Japan at all times.
Working and engaging in paid activities on a short-term stay visa is strictly forbidden.
How long can I stay in Japan without a visa?
Japan immigration laws state that visitors from 68 countries are able to travel in Japan for up to 90 days without a visa:
Stays of up to 15 days: Brunei, Indonesia, Thailand
Stays of up to 30 days: United Arab Emirates
Stays of up to 90 days: other countries and regions
This is provided visitors have a valid passport for the duration of their stay and don't engage in any paid work or activities.
Citizens of the 68 countries with savings of over 30 million yen are eligible to stay in Japan for up to one year for sightseeing or recreational purposes under the Longer Stays Program. If the applicant's spouse does not apply as an accompanying traveler and wishes to stay separately under this program, the applicant and his/her spouse must own savings equivalent to more than 60 million Japanese yen in total. Children are not allowed to accompany, and other rules apply. Visas must be obtained before traveling to Japan; click herefor more information.
Citizens of Austria, Germany, Ireland, Lichtenstein, Mexico, Switzerland, and the UK may extend their stay for another 90 days. Apply at the nearest Japan immigration bureau before the initial 90 days expire and pay a small processing fee. Click hereto link to the official Immigration Bureau of Japan website for more information.
Weather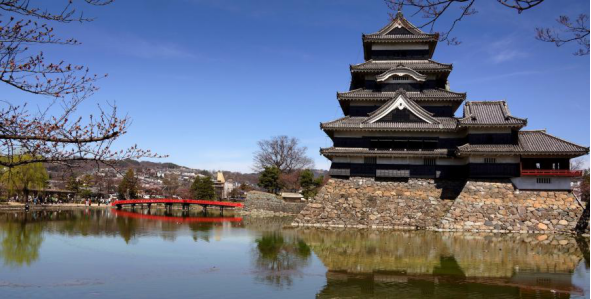 May is another beautiful month in the city of Tokyo, Japan. The days are longer, with the sun rising about 4:30am and staying up until almost 7pm by May 31. You can expect temperatures during the day to be around 20 to 21°C, though it will be slightly rainier than April with 132mm falling over 16 days this month. Still, you will need those sunglasses as the sun is out more often than not. A light jacket or sweater for cooler mornings and evenings is all that is needed now. This month would be a great time to visit Yokohama, where temperatures are only one degree warmer, but a great place to visit outside of Tokyo if you're looking for a change of scenery.
Temperature
With the weather warming up, Tokyo will be noticably busier, with the highs reaching 21°C, along with an average of 18°C across the whole of May. The lowest temperature usually stands around 14°C, this being very early in the morning.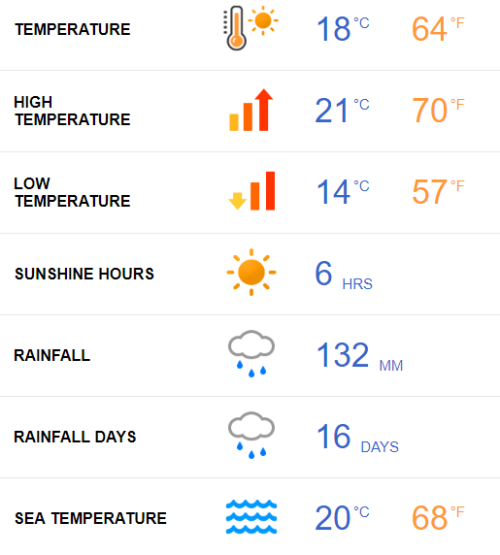 Sunshine Hours
Increasing by one hour more than April, May will bring an average of 6 daily sunshine hours. The weather is warm, and the sun is mostly shining.
Rain
A rainy day over the course of May is gradually decreasing, starting the month at 35% and ending it at 38%.
Transportation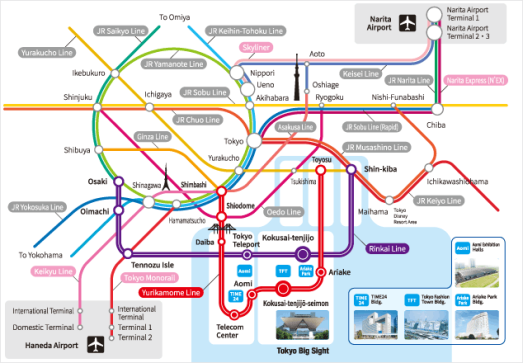 Major JR train lines in Central Tokyo
The map shows Tokyo's major railway stations and the five JR lines that are most relevant to people who travel within central Tokyo.
Yamanote Line

Circle line that connects all major city centers.

Keihin-Tohoku Line

Runs parallel to the Yamanote Line on the eastern half of the circle.

Chuo/Sobu Line (Local)

Runs across the Yamanote circle (local slow service).

Chuo Line (Rapid)

Runs across the Yamanote circle (rapid service). Connects Tokyo Station with Shinjuku Station.

Saikyo Line

Runs parallel to the Yamanote Line on the western half of the circle. From Osaki Station, some trains continue running along the Rinkai Line in direction of Odaiba.

Shinkansen

Tokaido Shinkansen trains stop at Tokyo and Shinagawa, while bullet trains to the north stop at Tokyo and Ueno.
Subways

Tokyo's subway network is operated by two companies, the Toei Subways with four lines, and Tokyo Metro (formerly known as Eidan Subways) with nine lines. Together, they densely cover central Tokyo, especially the area inside the Yamanote circle and the areas around Ginza and the area east of the loop line. Note, that at their terminal stations, the trains of some subway lines continue to operate on the tracks of different companies on suburban train lines. For example, the Chiyoda Subway Line is directly connected with the suburban Odakyu Line at Yoyogi-Uehara Station, and trains on the Fukutoshin Subway Line continue to run on the tracks of the Tokyu Toyoko Line at Shibuya Station.
Other railway companies
Besides JR East and the two subway companies, most other railway companies connect Tokyo with the metropolis' outer regions and surrounding prefectures. Their lines typically start at one of the stations of the JR Yamanote Line. Many of the private railway companies also operate department stores usually at their train lines' major stations.
Tokyu Railway

Serving southwestern Tokyo and Kanagawa.

Tobu Railway

Serving Saitama and Tochigi, including Nikko.

Seibu Railway

Serving the Tokyo Tama Region and Saitama.

Keio Railway

Serving the Tokyo Tama Region.

Odakyu Railway

Serving Kanagawa, including Hakone.

Keisei Railway

Serving Chiba, including Narita Airport.

Keikyu Railway

Serving Kanagawa, including Haneda Airport.

Tsukuba Express

Connecting Akihabara with Tsukuba City, Ibaraki.
Passes and Tickets
A whole variety of day passes is available for the Tokyo area, however, most of them are overpriced and/or not very practical because they do not cover all of Tokyo's train and subway lines. Consequently, single tickets or prepaid cards usually come cheaper, especially if you plan your city sightseeing in a geographically wise way.
Prepaid IC cards are generally the recommended way to get around Tokyo. Prepaid cards don't give you any discounts over single tickets, but they provide convenience as you can ride virtually any train or bus in Greater Tokyo (and many other major cities in Japan) with just a simple swipe over a card reader. They can also be used to make quick purchases at a constantly increasing number of shops in Tokyo (and across the country).
Two types of IC cards are available for purchase in Tokyo: Suica cards at JR stations and Pasmo cards at non-JR stations. Furthermore, eight IC cards from other major cities of Japan can also be used on the trains and buses of Tokyo, including Icoca, Kitaca, Toica, Manaca, Pitapa, Sugoca, Nimoca and Hayakaken.
Only on days when you use trains or subways a lot, can it make sense to consider one of Tokyo's day passes:

Tokyo Free Kippu (aka Tokyo Tour Ticket) (1590 yen)

Unlimited use of all subway lines (Toei and Tokyo Metro) and JR trains in the central Tokyo area on one calendar day (i.e. from the first to the last train of the day). It is also valid on buses and streetcars operated by Toei. The pass is overpriced and will unlikely provide any savings over regular tickets or prepaid cards.Tokyo Subway Ticket (24 hours: 800 yen, 48 hours: 1200 yen, 72 hours: 1500 yen)

Unlimited use of all subway lines (Toei and Tokyo Metro). Not valid on JR trains. The pass is sold at Narita Airport, Haneda Airport, ticket offices at some major subway stations, and selected Bic Camera and Yamada Denki electronic stores in central Tokyo to foreign tourists only (passport required). Furthermore, it is sold to both foreign tourists and residents of Japan through selected travel agencies outside of the Kanto Region.

Toei and Tokyo Metro One-Day Economy Pass (900 yen)

Unlimited use of all subway lines (Toei and Tokyo Metro) on one calendar day. The pass only pays off if you use the subways excessively. The pass is not valid on JR trains. Unlike the lower priced Tokyo Subway Ticket (see above), this pass can be purchased at the subway stations in central Tokyo.

Tokyo Metro 24-Hour Ticket (600 yen)

Unlimited use of the nine Tokyo Metro subway lines, but not the four Toei subway lines and JR trains. The ticket is available through ticket machines at Tokyo Metro stations.

Toei One-Day Pass (Toei Marugoto Kippu) (700 yen)

Unlimited use of the four Toei subway lines, buses and streetcars on one calendar day. It is not valid on the nine Tokyo Metro subway lines and JR trains. The pass is available at ticket machines and ticket counters at Toei stations.

Tokunai Pass (750 yen)

Unlimited use of JR trains in the central Tokyo area on one calendar day. The pass is available at the purple vending machines and ticket counters at JR stations.

The Japan Rail Pass and JR Tokyo Wide Pass are valid only on JR trains and the Tokyo Monorail. They cannot be used on subways or any other non-JR train.
News
New!! Tokyo Metropolitan University Akihabara Satellite Campus, Tokyo, Japan

Welcome! Prof. Koichi Asatanijoin ISCNC as keynote speaker
Venue
F12, Akihabara Daibiru Building,
Tokyo Metropolitan University Akihabara Satellite Campus, Tokyo, Japan
Key Dates
Abstract Submission: June 18, 2020
Full Submission: July 18, 2020
Author Notification: Aug. 18, 2020
Final Version: Sept. 8, 2020
Registration: Sept. 8, 2020
Main Conference: October 9-11, 2020
Organizer Statment
On the principal of participants' safety 1st, the organizer reserves the right to change the conference date and venue against force majeure. The participants are obliged to comply and cooperate with the organizer's decision.